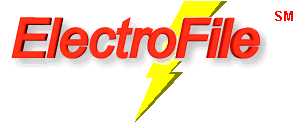 Income Tax Service
---
Secure Client Portals
ElectroFile Income Tax Service provides our clients with access to their own secure Client Portal. We must create the portal before you can begin using it. We will then send you an email that links you to your portal where you choose your own password. This is much safer than utilizing email, for example.

The Client Portal allows a client to upload data or document files such as Forms W2 and 1099s, Identification, and other documents. While we prefer these documents to be in .PDF format, we can utilize others such as .DOC, .PNG, .JPG, etc. When a file is uploaded to your portal we are notified.

The Client Portal also allows us to send data files back to each client's secure portal. Normally, these will be in .PDF format. These documents could be a copy of your completed tax return, an IRS Acknowledgement page, or other important communications. You will be notified via email each time that anything has been added to your client portal.

If you need to send us data or documents and do not have a Client Portal established yet, please click the Contact Us button below, complete the contact form's information and select the "Request a Private Clent Portal" when asked for the type of contact. You will receive a reply email from us when your portal has been established and once logged in your will portal will be active.
---
---
Click here to Request a Private Clent Portal